Goblin Trading Center
Goblin Trading Center
Although you may be able to obtain some rare resources, it's not a good idea to trade with these goblins.
Structure
Type
Crafting
Item slots
12

Size

1L × 2W × 2H
Item
Weight
4
Stack size
100
Item ID
268

Spawn Command

cheat giveitemnum 268 1 0 0

or

cheat giveitem "Blueprint'/Game/Mods/CubeWorld/Blueprints/Buildings/BuildingBPs/CW_BuildingBP_GoblingTradeCenter.CW_BuildingBP_GoblingTradeCenter'" 1 0 0

Crafting
Used to craft
17 items
Used to craft
0 items
The Goblin Trading Center is a crafting structure in Pixark.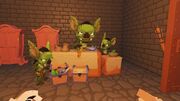 The trading center is used to exchange common resources for rare ones. It is a rare drop from a Goblin King.
It can only be placed on crafted blocks like Floors, Foundations, or Ceilings. It can be rotated with E before placement. It cannot be picked up. It can be painted. As the structure extends out over its base, the sides can merge into adjacent blocks above its ground level.. The actual footprint is larger than the 2x1, so that the attendant goblins can actually be mostly buried into walls. The full perceived size is 3x3.
When placed, the Goblin Trading Center selects 9 items from the following list which becomes its permanent trade list:
These trades are provided as recipes in the trading center's inventory. The components for the recipe must be placed into the trading center's inventory. When crafted, the transmuted resource is available wrapped in a packet in the trading center's inventory. Note there is no "Craft All" button like the other crafting structures. When the packets are in your inventory, you must select them and select "Use Item" for every packet. Attempting to open the packets with E merely closes your inventory.
Demolishing the structure gives 1 Gold Ingot and 25 Wood.
According to the game data, the drop rate for this item is exactly 1/20.